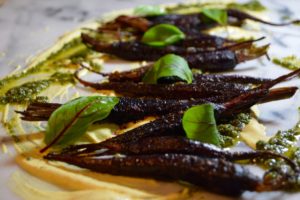 Springtime is officially here! Beautiful vegetables are blossoming everywhere and I couldn't be more happier. I love the heirloom varietiesm, which come in different flavors, colors, and sizes, because it makes a rewarding finish on your plate.  I always find myself using  cooking techniques such as roasting because it helps extract the vegetable and bring out the best in it.
The featured recipe has been paired with a carrot top pistou and spiced creme fraiche sauce. This side dish can stand alone or become a beautiful addition to seafood, beef, lamb, or poultry. I like to spice them with cumin and ginger to bring out the beautiful flavors of the carrot. This dish is well balanced with the sweetness of carrot, earthiness of the pistou, and a little spice from the red pepper.
Cumin Roasted Carrots with Spiced Creme Fraiche
Serves 2-4
Ingredients
2 bunches of heirloom carrots                                                                            8oz. creme fraiche
1 cup olive oil, plus 2 tbs                                                                                   2 tsp. curry powder
2 tbs. butter                                                                                                      1 tsp. ground ginger
6 cloves garlic                                                                                               1/4 c sunflower seeds
2-3 tps cumin                                                                                       1 cup carrot leaves, packed
1 lemon, juiced                                                                                                              salt to taste
1-2 tps. crushed red pepper                                                                                    pepper to taste
4-5 sprigs of thyme
Instructions
Preheat oven to 350 degrees.
Remove carrot tops and reserve. Peel carrots. Thoroughly clean the carrots removing any dirt. This step could take 2 or 3 times. In a 12 inch saute pan, add butter and olive oil at medium heat. Add cumin, 4 cloves of garlic smashed, crushed red pepper, and thyme. Toast for 30 seconds. Add carrots and mix in the pan. Season with salt and pepper. Roast for 25 minutes.
For the Carrot Pistou:
In a food processor, add carrot leaves, sunflower seeds, garlic, juice of half a lemon. Pulse until finely chopped. Slowly drizzle olive oil until fully incorporated. Season with salt and pepper.
For the Creme Fraiche:
In a small bowl, add, creme fruit, curry powder, ground ginger, and juice of 1/2 a lemon. Whisk until smooth. Season with salt and white pepper. Taste for seasoning adjustments.
To Assemble:
Smear creme fraiche on the base of the plate. Add roasted carrots. Spoon pistou on top of carrots.
Enjoy!