Pairing blueberries with a fluffy pancake is always a win in my book. Try these sweet and savory buttermilk blueberry pecan pancakes for an easy and unforgettable breakfast.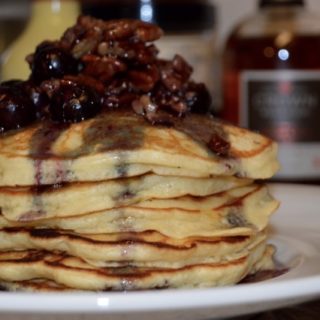 Buttermilk Blueberry-Pecan Pancakes
Happy New Year to all! I know you are looking forward to all the possibilities that lie ahead in 2018.
Breakfast is one of my favorite meals of the day. Whether its french toast, omelettes, or even pancakes with fresh fruit, I'm all in.
I'm a big fan of all types of berries for breakfast. . Today, I ran across a great batch of blueberries and immediately thought of pancakes. If you know me, there isn't any ordinary dish in my kitchen. Everything must reach its maximum flavor.
Pairing blueberries with a fluffy pancake is always a win in my book. I decided to make a blueberry syrup to enhance my breakfast. Of course, we had to have spices in the dish. Star anise, cinnamon sticks, and bay leaves added  a nice bite to the syrup. In addition, the aroma of toasted pecans filled the kitchen. It would add nice texture to the pecans in the making of a great breakfast.
Overall, the dish was a hit! It was a beautifully balanced and recommended to cook for breakfast or brunch. Enjoy!!
Ingredients
1 cup all-purpose flour
1 cup pastry flour
1/4 cup butter, melted
4 teaspoons baking powder
1 tsp baking soda
2 1/4 cups buttermilk
4 eggs
1/4-1/3 cup sugar
Pinch of salt
2 star anise
1 pint blueberries
1 cup maple syrup
2 bay leaves
1 cinnamon stick
1 cup of chopped pecans, toasted
Cooking pan spray
Instructions
In a stainless steel bowl, combine flour, sugar, salt, baking powder, and baking soda. Add eggs and buttermilk. Whisk until combined. Melt butter and add to mixture.
In a small pan, add maple syrup, cinnamon, blueberries, bay leaves, and star anise. Cook for 4-5 minutes or until the blueberries pop in the syrup.
Toast pecans for 2-3 minutes at 375 degrees. Add to the blueberry mixture. Set aside.
Heat pan or griddle at medium high heat. Spray with pan spray. Cook until small bubbles appear and edges allowing the pancakes to flip easily. Once flipped, cook for another 2 minutes or until done.
Serve the pancakes with the blueberry-pecan syrup.