Spring has arrived so quickly! I love springtime for many reasons, but also because its crawfish season too. Crawfish boils are always a tradition in my family. Across the city, pounds and pounds of crawfish are beautifully prepared for family and friends.
Once its over, sometimes pounds of crawfish are left to fish after. There are so many items that can be prepared with leftovers.
Crawfish pie, crawfish bread, crawfish beignets, and crawfish etoufee are to name a few. Goodness! I sound like Bubba Gump!
The featured recipe is an oldie but goodie. The famed crawfish pie that's been one of my favorites for a long time! The Holy Trinity of onion, celery, and pepper is always a great start to dish. I also added andouille sausage and serrano chile to bring out a little bite in this dish. All of this goodness baked in a pie shell! I encourage you to try out this recipe!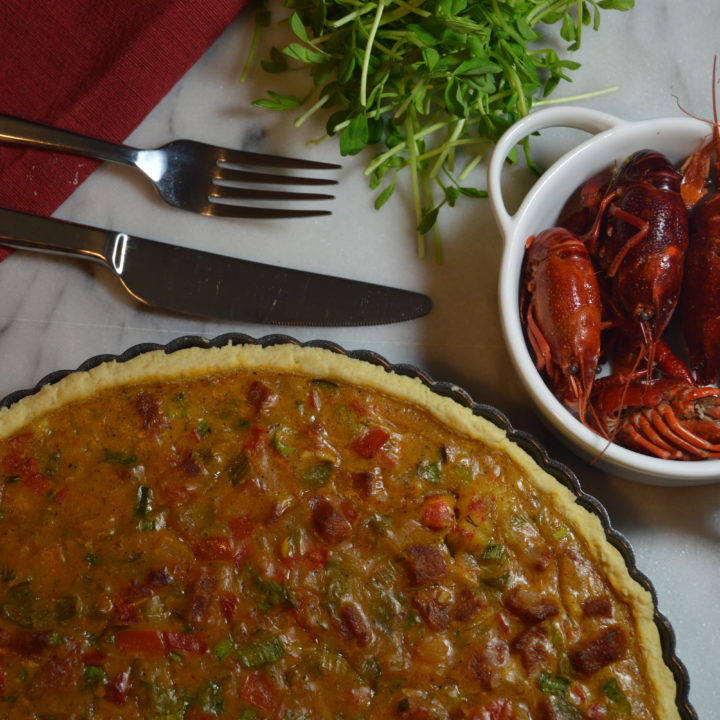 Crawfish Pie
Cook Time:
1 hour
15 minutes
Total Time:
1 hour
25 minutes
Crawfish boils are always a tradition in my family. The featured recipe is an oldie but goodie.
Ingredients
2 ½ C All purpose flour ¼ c butter
1 C butter ¼ c olive oil
8 tbs water 1 large onion, diced
½ tps salt ½ red bell pepper, diced
1 lb. Crawfish tails ½ green bell pepper, diced
8 oz andouille sausage, diced 1 serrano chile, diced
1.5 tbs. Nola Creole Rub 2 ribs of celery, diced
3 tbs AP flour 4 cloves garlic, chopped
2 medium tomatoes, diced 1 bunch of green onions, sliced
2 C chicken or shrimp stock Salt to taste
2 eggs Black Pepper to taste
Instructions
Preheat oven to 350 degrees.
For the Crust: In a stainless steel bowl, add flour and salt. Add butter that has been chilled and diced. Mix by hand or with a pastry blender until the butter is the size of a pea. Add chilled water. Carefully mix until the dough comes together. Refrigerate.
For the Crawfish: In a 6qt. pot, add butter and olive oil at medium heat. Add onion, celery, bell pepper, chile, garlic, and Nola Creole Rub. Cook for 4-5 minutes. Add tomato and andouille sausage. Cook for another 5 minutes. Stir in flour. Fold in mixture until fully incorporated. Add chicken or shrimp stock. Cook for 10 minutes. Fold in crawfish tails and green onions. Taste for seasoning adjustments. Whisk eggs and add to the crawfish mixture. Set aside.
To Assemble: Roll out pie dough in a 10 in pie shell. Add crawfish mixture. Bake for 40-45 minutes. Let rest for 5-10 minutes.
Slice and serve!