I have a great love for potatoes in general, but the flavor of fingerlings has always stood out to me! This is one dish for everyone to have as a side dish on the dinner table.
Fingerling potatoes are small fingerling like potatoes that can grow in many varieties. The most popular are the Purple Peruvian, French Fingerling, and Russian Banana (pink-flesh). They cook quickly and pair well with chicken, seafood, beef, lamb, or pork. They are great as a vegetarian dish as well.
I love this fingerling potato dish because it's packed with flavor and easy to execute. The fresh herbs compliment the potato and the lemon juice will make it pop! Roasting the potato also assists in concentrating the flavor of the vegetable.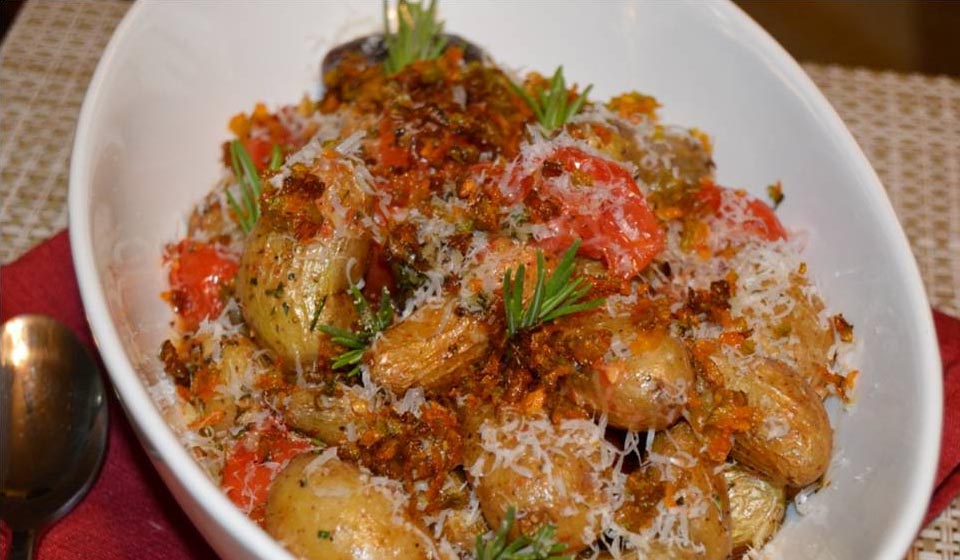 Roasted Fingerling Potato, Cherry Tomato, and Parmesan Cheese
Ingredients:
1 lb. Fingerling potatoes
5 tbs. olive oil
2 tbs. butter
6 cloves garlic, chopped
1 1/2 tsp thyme, fresh
1 tbs Rosemary, fresh
Juice of 1 lemon
2 Cups cherry tomatoes
1/4-1/2 cup Parmesan cheese
1/2 cup Squash blossoms, sliced
1 cup canola or vegetable oil
Instructions:
Preheat the oven to 350 degrees.
In a 12 inch saute pan, saute potatoes with 2 tablespoons of olive for five minutes on medium heat. Season with salt and pepper. Once golden brown, roast in the oven for 25-30 minutes.
Blistered Tomatoes
On medium high heat, add 2 tablespoons of olive oil in a 10 inch saute pan. Add tomatoes. Saute until the skin starts to break. Season with salt and pepper. Set Aside.
Squash Blossoms
In a 8 inch saute pan, add oil. Heat up to 350 degrees. Add squash blossoms, Cook until crispy. Drain on a paper towel and season with salt.
Once potatoes are done. Set aside in a bowl. In the same pan, add 2 tablespoons of butter and 1 tablespoon of olive oil. The pan should be at medium heat. Add the garlic, thyme, and rosemary. Cook for 30-45 seconds. Add lemon juice. Fold in tomatoes and potatoes. Taste and adjust seasoning. Garnish with Parmesan cheese and crispy squash blossoms. Enjoy!!
Note: If you can't find squash blossoms, herbs such as sage work well also.
Enjoy!!