Looking for the perfect wing recipe? Here is my take on my style of chicken.
WINGS! Summertime is officially here and it's all about grilling! Let's be honest, we all love getting messy with flavorful chicken wings. Whether its smoky, spicy, or fruity, chicken wings are never a miss. You can be the star for the day by serving it as a quick appetizer or as a party food for a big bbq.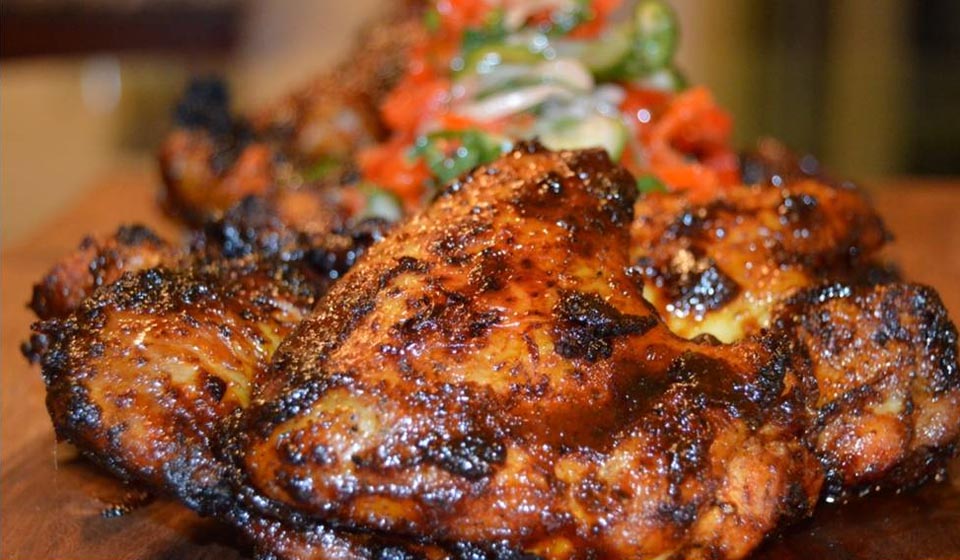 Red Curry BBQ Chicken Wings with Peppadew Pepper Salad
Ingredients:
8 chicken wings
20 peppadew peppers, grilled
2-3 Tbs. BBQ spice
1 cucumber, sliced
1 tbs. garlic, chopped
2 shallots, thinly sliced
1 tbs. ginger, chopped
1 Tbs. mint, chopped
1/2 c soy sauce
1 Tbs. cilantro, chopped
2 tbs. mirin
1/4 c lime juice
2 tbs. sriracha
1/2 c olive oil,plus 2 tbs
1/2 c BBQ, your favorite bbq sauce
3 tbs. honey
1/4 c mint leaves, packed
1/2 c cilantro, packed
2 tbs. rice wine vinegar
1 tbs. red curry paste
Instructions:
In a small bowl, marinade chicken wings with olive oil and bbq spice. Marinade for 3 to 4 hours or overnight. In a blender, combine garlic, ginger, soy sauce, mirin, sriracha, honey, mint, cilantro, red curry, and bbq sauce. Puree until smooth. Set aside.
Set grill to medium- heat. Make sure grill is well oiled to prevent sticking.  Remove the chicken wings from the marinade. Grill the wings , turning occasionally.Cook the chicken until it's well browned and no longer pink, 25 to 30 minutes.Place grilled wings in a large bowl. Pour  sauce over wings mixing it well. Add them back to the grill for 4-5 minutes., turning occasionally.
Peppadew Pepper Salad
Grill peppadew peppers for 30 seconds on each side.  Allow to cool before handling.  In a small bowl, slice cucumber, shallot, and peppers. Add chopped mint and cilantro. Add lime juice and olive oil five minutes before serving.
Enjoy!!