It's summer 2016 and its been a hot one! The beaches are packed and cool summer dishes are rolling out.  Today, I've prepared an easy summer ceviche that can be eaten on the beach, the pool, or your local cookout.
Ceviche is a seafood preparation that cooked with local citrus. It adds flavorful bright flavors and satisfies the palate for a summer tasting. Since stone fruit  is in season, I thought I'd add grilled peaches to intensify the dish.
The dish is super simple and can be executed by beginner cooks. It consists of peaches, limes, shrimp, chilies, tomato, cucumbers, and cilantro. Allow it to marinade until the shrimp becomes opaque. Serve with your favorite tortilla chips! Enjoy!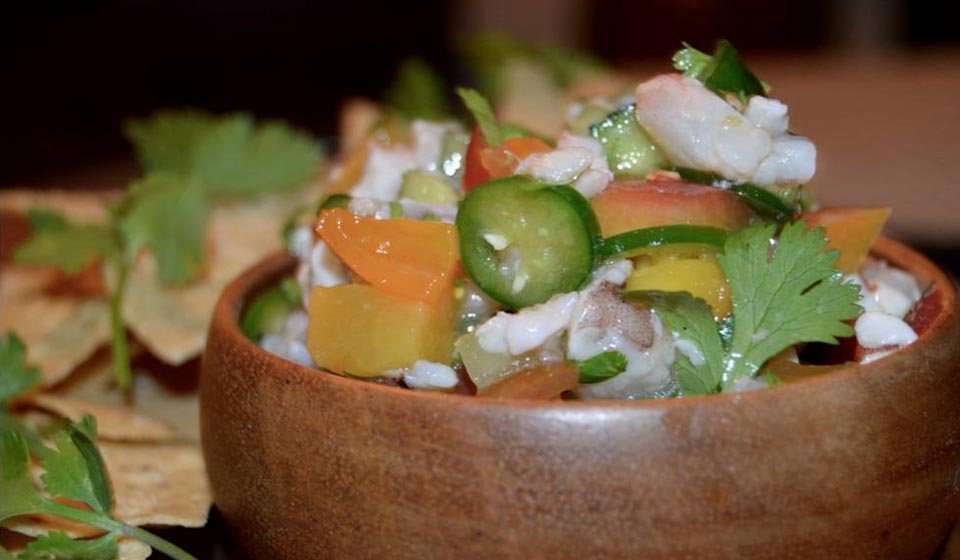 Grilled Peach and Shrimp Ceviche
Ingredients:
1 lb. Shrimp, small diced
2 C baby heirloom tomatoes, quartered
1-2 serrano chilies, sliced
2 Persian cucumbers, small diced
1/2 red onion, small diced
2 peaches, grilled
3/4 c  lime juice
1/4 c olive oil
1/3 c  cilantro
Salt to taste
Hot sauce to taste
Tortilla chips, your favorite brand
Instructions:
In a mixing bowl, add shrimp, tomatoes, serrano chilies, cucumbers, red onion , lime juice, and olive oil.  Allow lime juice and olive oil to cover the ingredients.  Refrigerate. Marinade for 1 hour or until shrimp is opaque. Grill peaches and set aside to cool. Once opaque, add diced grilled peaches. Fold in cilantro. Season with salt. Add Hot sauce. Serve with tortilla chips. Enjoy!