Springtime gives you all sorts of scrumptious goodies to play with in the kitchen! Coleman Farms gives me just that! I love their beautiful greens and herbs, but their mulberries was a treat as well.
Today, I was inspired to pickle the mulberries. I knew that it would balance well with the pork belly and the brightness of the romesco sauce would give this dish an extra flare that would even satisfy a vegetarian! The smoky bbq flavor presents another dimension that creates a harmonious symphony to the dish.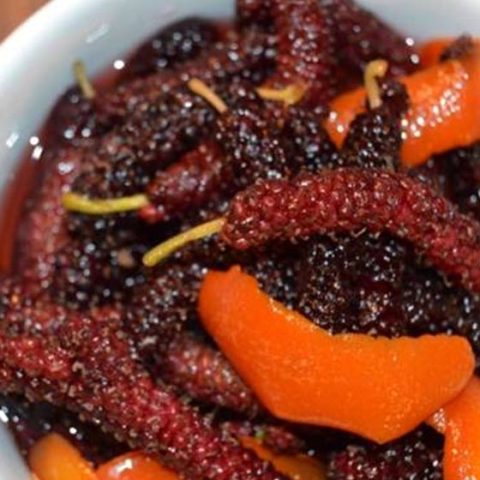 Pork Belly, Pickled Mulberry
Total Time:
8 hours
20 minutes
Today, I was inspired to pickle the mulberries. It balances well with pork belly and the brightness of the romesco sauce gives this dish an extra flare.
Ingredients
Braised Pork Belly
1lb. pork belly
2 Tbs. BBQ spice
1-2 Tbs olive oil
1 medium onion, quartered
Cloves of garlic, smashed
3 star anise
12 oz. red wine
4 bay leaves
8 cups chicken stock
1/4 Cup of your favorite bbq sauce
1 tbs butter
Pickled Mulberries
8oz mulberries or blackberries
1/2 cup white wine vinegar
1/2 sugar
2 tps. kosher salt
1 tbs. pickling spice
8 strips of orange peel
1 cup of water
Shishito 'Romesco'
6 oz Shishito peppers
1-2 heaping tsp. of Calabrian chili peppers, chopped
1/4 c hazelnut, toasted
1/4 c almond, toasted
1/2 c cilantro
1/2 c mint
1 tbs. bread crumbs
2 cloves of garlic
Zest and juice of 1 lemon
Salt to taste
Black pepper to taste
1 cup olive oil
Instructions
Pork Belly
Preheat oven to 350 degrees.
Rinse the pork belly and dry with a paper towel.
Season with bbq spice.
Set in 9×13 roasting pan.
In a 4 qt. sauce pan, heat olive oil at medium heat.
Add onion and garlic.
Saute for 1-2 minutes.
Add ancho chili, star anise, and bay leaves.
Add red wine and reduce by half.
Finish with chicken stock.
Season with salt and pepper.
Pour liquid mixture over pork belly.
Cover with aluminum foil and bake at 350 degrees for 3 hours.
Strain liquid into a 4 qt. sauce pan and reduce by half.
Once the pork belly is cooled, press down with another pan.
Chill in the refrigerator for 8 hrs or overnight.
Once the braising has reduced, add barbecue sauce and set aside.
Take out the pork belly. Save any rendered fat that falls in the pan.
Cut into 2 ounce or 4 ounce portion sizes.
In a saute pan, heat 2 tablesppons of the pork fat. Cook pork belly on all sides and heated through for 5 minutes.
Baste the pork belly with the braising liquid and one tablespoon of butter.
Pickled Mulberry
Place mulberries in a quart container.
In a 2 qt. saucepan, Add vinegar, sugar, orange peel, salt, pickling spice, and water.
Bring to boil until the sugar and salt has dissolved.
Let the mixture cool.
Strain over mulberries.
Add the orange peel to the strained pickling liquid.
Let the mulberries pickle from 4 hours to overnight.
Shishito 'Romesco'
In a 350 degree oven, toast almonds and hazelnuts for 5 minutes or until golden brown.
Set aside until cool.
Toss the shishito peppers with 1 tablespoon of olive oil.
Blister the shishito peppers in a saute pan or grill.
In a blender, add all ingredients and puree until smooth.
Season with salt and pepper. Set aside.
Assembly
Place 'romesco' down on a plate. Add seared pork belly. Finish with pickled mulberries.
Enjoy!!